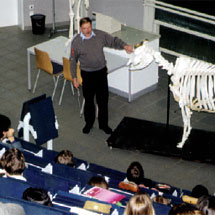 In 1975 he followed a call as professor at the University of Kassel/Witzenhausen in Germany, where he right away left no doubt not only where his heart beat but even more so what he was going to teach his students. In those days it took a lot of courage to fundamentally challenge the conventional system and so called logic of "modern" and industrial animal production and to research instead in organic agriculture and animal husbandry.
Having been responsibly and successfully involved in the organization of the 1984 IFOAM Organic World Congress in Witzenhausen he was elected there at the General Assembly of the world umbrella organisation IFOAM to serve as chairman of the Board of Directors. In those days the federation suffered President of IFOAM at the World Congress in Burkina Faso 1989 from a great lack of funding, which consequently led to a lack of international awareness and recognition. In his four years (two terms) as Chair Engelhard Boehncke was instrumental in, in the best sense of the word, directing IFOAM on its way to become a real global organization. By the beginning of 1989 at the latest, with the Organic World Congress in Burkina Faso/ West Africa IFOAM had developed from a Euro-centric small international network to a world organization across all the continents.
Engelhard Boehncke with his wisdom, patience, integrative capacities and especially with his good sense of humour held the movement together in times when different "schools of thought" and sectors of the organic movement were sometimes even moving from arguing to "battling". After serving the worldwide organic movement Engelhard Boehncke returned to focus on the welfare of animals by accepting the presidency of the International Association for Animal Husbandry based in Switzerland. In this capacity he was very successful in creating increasing awareness in politicians and governments and in the public at large of animal rights and organic animal husbandry.
He was also instrumental in establishing an "animal husbandry" award funded by the German Schweisfurth Foundation and later by the Felix-Wankel Foundation for young scientists working in the field of farm animal ethology and appropriate housing.