Joseph Wilhelm
Greeting 2021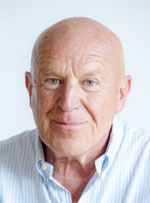 Dear friends of the One World Award
In this booklet, we present you the winners of the 6th One World Award. Unfortunately, the circumstances associated with the Covid pandemic make it impossible to present the awards in a big live gala event as was originally planned in 2020 / 2021 – instead, we will only have an online ceremony.
The Covid pandemic further accentuates the injustice in our world. Although most of the countries of the poor South were hit less harshly with respect to the numbers of Covid infected, the consequences of the pandemic will nevertheless have dramatic impacts. Given the poor social security systems of these countries, the economic impacts will be much more serious there. Poverty and famine will increase dramatically especially in Africa. This is further compounded by the tendency of several rich, industrialized countries to drift off towards national isolationism.
All this will lead to an even greater imbalance in the distribution of global wealth.
In this context, the OWA with its objective of strengthening the four pillars of sustainability and creating a fairer world has even greater importance. Therefore, Rapunzel together with our partner IFOAM and the OWA-jury are very happy to honor outstanding projects and people with the 6th OWA awards. We all have an impact on the world – either with small or big projects but also with our personal buying behavior. With the award we want to reward the laureates and we want to encourage all of us. Let us participate actively in giving globalization a positive direction that empowers people and liberates them from dependence. With encouraging regards
Joseph Wilhelm
Initiator of the One World Award,
Founder and Managing Director Rapunzel Naturkost