Vandana Shiva
India

Vandana Shiva was born in 1952. She studied in Canada and holds a doctorate in physics. After returning to India, she set up her own research lab in her mother's cowshed. Since the 1970s Vandana Shiva has worked as an environmental activist and eco-feminist. She sees her work and struggle for the poor in the tradition of Mahatma Gandhi. In an interview on the consequences of globalization, the German news magazine Stern called her the "Voice of the Poor". She is a globally accepted authority on issues like biodiversity, seed saving, genetic engineering, globalization and climate change. Vandana Shiva has received numerous international awards and recognitions among others also the Right Livelihood Award.


Nnimmo Bassey
Nigeria (OWA 2012-2017)

Nnimmo Bassey was born in 1958. In the 1980s he started to get involved in human rights issues and was elected to the Board of Directors of the Nigerian Civil Rights Organization. In 1993, he co-founded the organization Environmental Rights Action (ERA), a Nigerian non-governmental organization campaigning for environmental and civil rights issues in his homeland. Bassey is chairman of the association Friends of the Earth International. The British Time magazine featured him 2009 as one of their "Heroes of the Environment". 2010 Nnimmo Bassey was honored with the Right Livelihood Award. In Africa, he is one of the most influential activists for environmental causes and human rights issues.


Roberto Ugas
Peru (OWA 2010-2017)

Roberto Ugas is a Peruvian agronomist who lectures and researches at Universidad Nacional Agraria La Molina, dealing with vegetable crops, rural development, agroecology and organic guarantee systems. He was advisor to Peru's National Association of Ecological Producers (ANPE), a member of the advisory board that drafted the first organic regulation in the country, and participates in related international (ISOFAR) and Latin American (SOCLA) scientific networks. Ugas was Vice- President of IFOAM for two periods, member of its Accreditation Committee and of the task force that drafted the principles of organic agriculture. He currently represents IFOAM in the OWA Jury and in ICROFS. His current field of interest is the diversity of Peruvian Capsicum. This project combines germplasm screening and other scientific research, on-farm and participatory experiments and the improvement of value chains including the Peruvian peasant-cook alliance.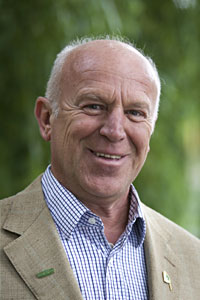 Joseph Wilhelm
Germany
The organic pioneer and activist is founder and Managing Director of Rapunzel Naturkost. Joseph Wilhelm started his agricultural career on his parents' farm in the Swabian village of Großaitingen. Already as a teen he traveled extensively. In 1974, after completing a training in biodynamic agriculture, he and Jennifer Vermeulen opened one of Germany's first organic food stores with an organic market garden and a wood stove bakery. Soon after, he founded the food processing and wholesale company Rapunzel. With the Rapunzel Turkey project, Joseph Wilhelm established one of the largest organic cultivation and food processing projects in Turkey. The combination of fair trade and organic cultivation is another major concern of his activities. Joseph Wilhelm commits himself to the struggle against genetic engineering with his campaign "Genfrei Gehen" – the march for a GMOfree world. In 2008, he initiated the OWA.
Bernward Geier
Germany

Bernward Geier was born in 1953. After finishing his compulsory community service in a slum in Washington D.C., he studied cultural history in Mexico and agriculture at the University of Kassel. He worked five years in Kassel as scientist and lecturer in the department of organic agriculture. From 1986 until 2005 he was Managing Director of IFOAM, the global umbrella organization of organic agriculture. Bernward Geier is journalist, political activist, member of the Future of Food Commission and active Slow Food member. He lives on a small organic farm and runs the consulting firm COLABORA – let's work together. He is OWA coordinator and chairman of the OWA jury.


Tewolde Berhan Gebre Egziabher
Ethiopia (Member of the OWA Jury until 2010)

Tewolde Berhan was born in 1940. After graduating from the University of Addis Abeba he took a doctorate from the University of Wales. After he finished his studies, he became Dean of the Faculty of Science in Addis Abeba and served for 8 years as president of the Asmara University. Today Tewolde Berhan is Director General of the Ethiopian Environmental Protection Agency which is effectively the country´s Ministry of Environment. He is a world-leading expert and authority on issues such as biodiversity, seeds, patents on life and intellectual Property Right (TRIPS) and has centrally influenced the Convention on Biological Diversity and the bio safety negotiations. Outstanding among his many international recognitions is the Right Livelihood Award also known as the "Alternative Nobel Price".

"I am a local, rural and communal citizen and I believe that the whole world is a community. We have made huge progress in asserting local community rights around the world and we shall continue to do so."


Alberto Pipo Lernoud
Argentina (Member of the OWA Jury until 2008)

Alberto Lernoud is a journalist, poet, activist, trader and true pioneer of the organic movementin Argentina and who already started to farm organically in1983. In 1989 he and his wife founded with El Rincon "Organico", the first organic shop in Argentina with a home delivery and catering service. The shop is still running well and opened an export department in 2000. Until the end of 2007 Alberto Pipo Lernoud was president of Fundación Cocina de la Tierra, an NGO committed to indigenous foods development and small markets in Latin America.

As an ecological activist he founded the first organic consumers cooperative "Al pan, pan" in 1982, co- founded 2 years later the first organic NGO in Argentina (CENECOS), and in 1995 the umbrella organization MAPO. He has served on the IFOAM World Board since 1998 and has also been its vice president for the past 7 years. As a journalist he edited various magazines on music and ecology and several books on alternative culture. As a poet he wrote rock song texts and has recently edited an anthology of his work ("Sin tiempo, sin memoria" 2006). He gives poetry readings and conferences around the country. He represents the OWA patron IFOAM in the jury.