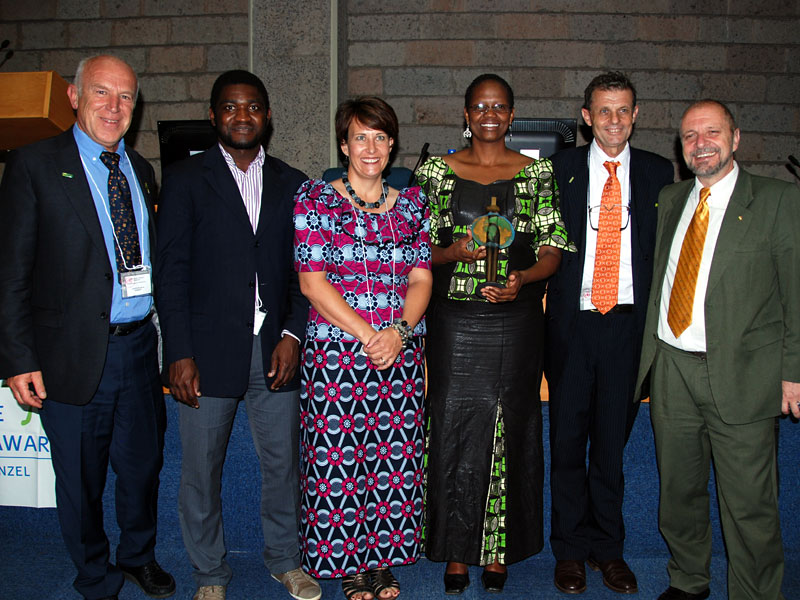 From left to right: Joseph Wilhelm, Hervé Bouagnimbeck, Manjo Smith, Wanija Maatthai, Andre Leu, Bernward Geier
The late Prof. Wangari Maathai had accepted the One World VIP-Award 2010 for her outstanding achievements (VIP, stands for Very Impacting Person!). Last year she was not able to receive the prize personally. Her award ceremony was scheduled for the occasion of the IFOAM International Organic Agriculture conference at UNEP in Nairobi on November 15th. With greatest sadness and deep grief we had to accept that "Mama miti" (Mother of Trees) had passed away just a few weeks prior to the award ceremony.
The One World Award jury had chosen Wangari Maathai as she
personified with her outstanding engagement all the objectives of the One World Award
, especially the aspect of "peaceful community building". All of her work was solidly built on the three pillars of sustainability. As a tireless campaigner and activist for environmental conservation, democracy, human and especially women's rights, peace and justice she put the objectives of the One World Award into action on a global level and with the greatest impact.