Dao Droste:
Artist of the One World Award Statue
Cosmopolitan, Taoist, free-lance artist (paintings, sculptures, installations and video art), former chemist with a doctor's degree.

As a matter of fact, Dao Droste always wanted to be an artist. But when she graduated from high school there was war in her native country Vietnam and nobody there needed artists. So young Dao went to Germany and studied chemistry in Stuttgart and Heidelberg. After passing all exams she was "so unhappy of not being examined any longer" that she went on to earn a doctor's degree – with distinction. Not until 15 years after her arrival in Lüneburg, Lower Saxony, she started to dedicate herself to her original passion: installations, sculptures, paintings. In Eppelheim near Heidelberg she opened her own studio where she celebrated this year her 30th anniversary as an artist.


Be open for balance, reconciliation and your own intuition
"The Way" is the translation of her first name. And it perfectly fits this tender woman. She is a Taoist being convinced "that you have to accept what is and that you have to always be fully present in the moment without thinking of what comes next". And you have to always be open for balance, reconciliation and your own intuition. Her Far Eastern roots cannot only be felt in her personality, but also in her artwork which has become part of renowned public and private collections. While her family lives scattered across four continents, Vietnam has always remained the spiritual home of the artist. But what does home mean? She calls herself a cosmopolitan and knows: "I can only survive with this attitude".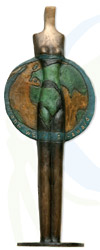 The OWA statue symbolizes the life-giving power of "Mother Nature". The colorful areas representing the continents and the oceans and additional blue bands flow across Dao Droste's typical female torso forming a unity of everything – a symbol for harmony between man and Earth and for a type of globalization that takes on responsibility. Sustainability is a matter of the heart for Dao that she expresses artistically in various ways. For this heartfelt expression she received the Environmental Award of the German Federal Work Group for Environmentally Aware Management [B.A.U.M.] in 2015 in the category "culture and media".
Source: Nicole Heß (Stadtmagazin MEIER)

www.daodroste.de