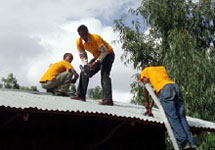 Harald Schützeichel initiated the foundation in 2004. He first made an in-depth analysis, what went and still goes wrong with development aid in so-called development countries – especially in Africa. His clear goal and part of his success story was to avoid all the mistakes made so far. The main objective of the foundation is not simply to
bring clean and renewable electricity to the rural poor
in Africa. It is a means to alleviate poverty and establish a model, showing how local business could be developed. Rightly they call their programme not "Light for Ethiopia" but "Light for Education".
Bringing light to the villages is very important for education,
health and economic development
and also brings an
important sign of hope to the rural population
that there are improvements in living conditions, reducing pressure to emigrate to the (slums of) big cities.
The solar lamps also have a
significant environmental improvement potential
. They replace the kerosene lamps, which need about 70 litres of petroleum per year and produce 170 kilogram of CO². After a pilot project to install solar units in 30 huts, a plan has been made to provide the village Rema with over 1.200 households with solar electricity. This year 3.000 units will be installed, which then will grow next year to 7.000 units. Already in the second year of its existence 15.000 people are benefiting from the foundation's work.