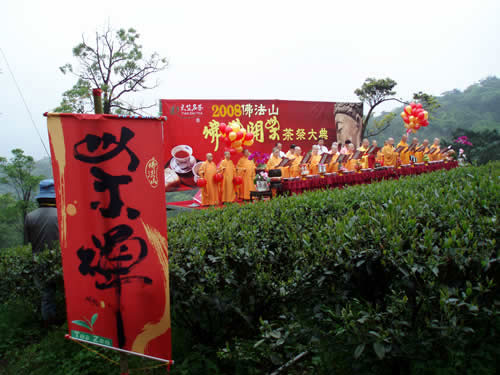 The organic agriculture activities started in 1995. On about 20 hectares throughout Taiwan Fo Fa Shan today grows organic tea, vegetables and other food for their monasteries and guests. Beside six Buddhist temples throughout Taiwan, which offer regular lectures on physical, mental and environmental protection, the group runs four organic and educational farms, a publishing house and the Sheng Charity Chinese Medicine Hospital, which offers free medical service to the disadvantaged and aged population in Taizhung. The hospital has treated hundreds of thousands of people over the years and has a high reputation for its successful practice of traditional Chinese medicine.
The foundation is active throughout the country as well as internationally to educate on organic life beyond tea. Aside from spiritual literature, they
publish a lot of brochures and books on organic agriculture
and related topics. The Sheng De Magazine has a circulation of 200.000 copies. Alongside the 100 monks and nuns there is a staff of about 50 people, who always can rely on the help of an average of 200 fulltime volunteer workers and 100 organic promotion volunteers.

www.ffs.org.tw